Colonial Cherry & Tiger Maple Custom Kitchen
Custom Kitchen Cabinetry, in the Colonial Style
by Delnero Custom Kitchens
Built for Steve and Martha ~ Cooperstown, New York
Steve and Martha asked us to build their cabinets after seeing the job we did on Jim and Kate's kitchen. Referrals such as this make up a large portion of our business. Dad taught us that if you build things properly, they will just about sell themselves!
It was a pleasure going through the design and layout of this custom built kitchen. Steve and Martha liked some of the features of the existing kitchen, but wanted to create lighter workspaces, and needed to incorporate appliances in a more user friendly layout.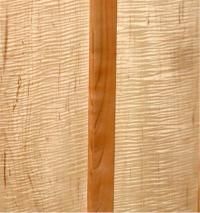 The entire kitchen was built of solid cherry wood, with heavily figured tiger maple panels throughout.
This island was built with a 1 1/4" thick solid Bird's Eye Maple counter top. In the other end of this kitchen we build a table with matching Colonial styled turned legs and Bird's Eye Maple top. This custom made kitchen island needed to have many features. It has a place for their children to eat at, it housed a gas oven and stove, and also needed to hold various trash bins for recycling.
Custom kitchen cabinetry to us means, coming up with a solution to any detail important to our clients. This corner lower unit was to hold a solid copper sink. The sink was built by hand, and was quite a challenge to fit it to the cabinet. The bottom surface was about an inch from being true and flat. With a little patience, the finished piece looked perfect.
We built some additional handcrafted Colonial furniture pieces for the kitchen and adjacent dining room. It is a common practice in kitchens designed today to incorporate custom pieces of furniture to function as kitchen cabinets. It opens up an opportunity to add interesting variations, breaking up the monotony some might feel having similar cabinetry on every available wall.
CLICK THESE IMAGES TO SEE A LARGER IMAGE
Open Daily 10:00 AM to 5:00 PM
Closed Sundays
Evenings by Appointment