Reclaimed Flame Redwood & Maple Arts & Crafts Trestle Table
Beautifully Hand Crafted Fine Furniture in Various Styles
The Delnero Family Furniture Co.
The tops of this impressive table and benches were built out of this century old slab of Flame Red Wood. This massive piece of redwood measured 126" long x 47" wide x 3" thick, and weighed 275 lbs. It was purchased by our client from a company in California. Gennady asked us to use it to build him and his wife Anna a modern looking Metro Style table and benches. We also used some of the cut off pieces for the front panels of a liquor cabinet that would be displayed in the same room.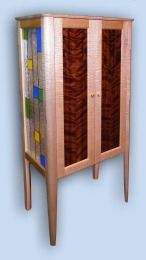 Justin guides the front end of the huge redwood slab, as we work to joint a straight edge along its side. It was quite a job cutting this slab into the table and bench tops.
The Table measured 84" long x 42" wide. The benches measured 40 long x 16" wide. The tops were cut on a 15 degree angle around the perimeter. The bases were crafted out of solid maple. The beams were arched for a modern look. We imbedded steel rods through the beams and uprights to add extra strength.
A shot of the table from the side. The contrast between the top and base truly high­lights this stunning redwood slab.
A shot of the redwood top glued and "in the press" with 6 double bar clamps. The water proof glues used take 12 hours to completely dry, though we prefer to wait 24 hours before work­ing glued objects this large.
Here, the feet of the table and benches have been glued, cut to width and thickness, and await their final design that will be cut out on the band saw. The excess glue has been chis­eled out of the mortise holes.
Open Daily 10:00 AM to 5:00 PM
Closed Sundays
Evenings by Appointment