Custom Features for Custom Islands
by Delnero Custom Kitchens
Handcrafted Custom Furniture, Custom Kitchens, Custom Cabinets, and Custom Islands
Our custom islands have special features designed and built precisely to our customers' desires and specifications. Examples of the features we have incorporated can be found in the pictures and descriptions below.
If you haven't seen them, be sure to check out a few of the
custom islands
and the
custom kitchens
they were built for.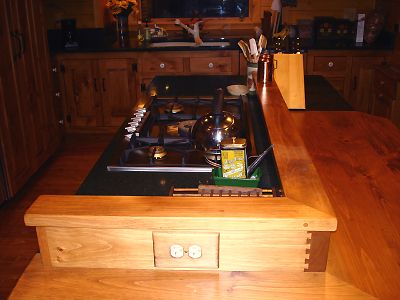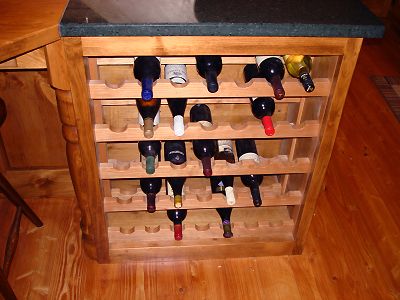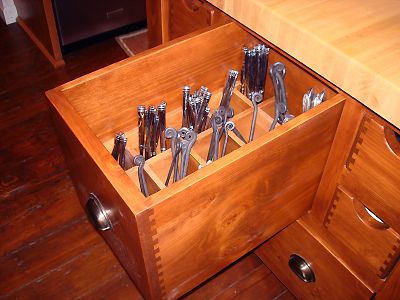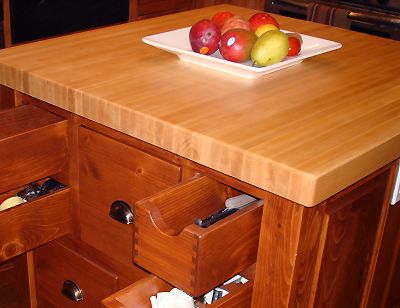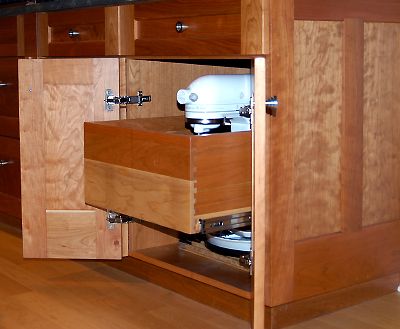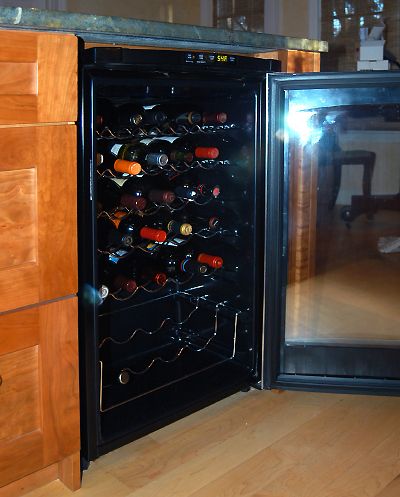 Kitchen island cabinets add valuable storage, and use­ful spaces for appliances often found in custom islands. A shot of convenient angled drawers flanking a gas cooktop area in this custom walnut island with granite counter. Solid wood kitchen custom islands offer unsurpassed work space and conven­ience during the preparation of foods. Bi level counters add interest to kitchen island design. Much forethought and prep­aration is involved to elec­trify an island. We like to run the power source of an island up through the center of a leg, or within a side to create a truly seamless look. Here, Justin runs 12-2 Romex to the 4 outlets of this solid wood island. A shot of the inside details of this large solid walnut custom island. Originally there were to be 8 small panels per end designed by the Architect. In the building of the wood island, we noticed an opportunity to give the clients 4 small shelves per end, with a little ingenuity. There is no custom island to intricate for us to build. A shot of storage roll out drawers behind doors, under a gas cook top in this early American pine wood­en island. The clients wanted a ledge to separate the cooking section from the breakfast bar section of this solid wood island. Note, the dovetailed corner in the wrap around ledge. A 35 bottle solid wood wine rack adds a nice touch to the design of this wine rack custom island. We can custom build drawers to hold a variety of items. This deep drawer holds silverware, vertically. A shot of a custom island with stools. This island featured a solid bird's eye maple counter top. A wine refrigerator is flanked by a set of one drawer over a pair of doors. Note, the custom tile work in the drawer frames. For any of your quality tile needs, be sure to contact Melissa at Casa Tile! Call (914) 374-3347 or you can just Call (914) 374-3347 or you can just
e-mail Melissa
. Casa Tile's website is coming soon! A custom island with butcher block counter. The butcher block counter measured 3" thick, and was crafted out of solid rock maple wood. The small drawers featured "exposed" dovetails, with notched pulls. We offer roll outs of every shape and size, and all sorts of slide out hardware for any need. A shot of a solid tiger maple counter top on a butternut kitchen furniture island. Small sinks are often incorporated in custom kitchen islands. It is handy not to have to run to the main sink every time you want to rinse off a piece of fruit or vegetable. We custom build our islands to accommodate any plumbing needs. We wire our islands so appliances like this wine cooler just plug and slide into place. A shot of a pair of roll out drawers behind a paneled door in this solid flame cherry wood kitchen custom island.
Open Daily 10:00 AM to 5:00 PM
Closed Sundays
Evenings by Appointment