The History of Delnero Fine Furniture Company
The Delnero Fine Furniture Company was founded in 1964 by Robert J. Delnero in Agawam Massachusets.
The company was relocated to Southampton Massachusetts in in 1976 and the entire family entered into the business of making custom built furniture.
R. J. or "Bob" Delnero passed away in 1999 and today his tradition of the finest handmade furniture is carried on by his two sons, Mike and John Delnero and their families.
Soon after the passing of the founder, more room was needed so in 2002 the company was relocated to a 475 acre property in Fort Plain New York near Cooperstown.
Bob Delnero's early works were all Colonial or Early American Style pine pieces. Gradually hardwoods were introduced and today, Delnero Furniture features the most highly figured hardwoods available.
Bob Delnero's early work: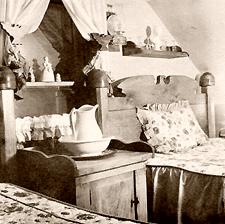 Open Daily 10:00 AM to 5:00 PM
Closed Sundays
Evenings by Appointment