The Early Settlers Rustic Furniture Gallery
by Delnero Rustic Furniture
The pieces in this collection are a representation of a simpler time. Though we seem far removed from those days, we have preserved these early traditions and values in our furniture.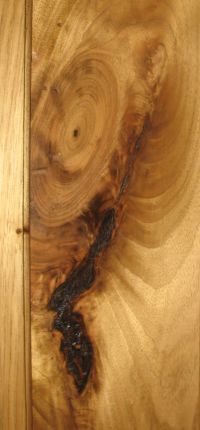 In our nation's early days, furniture was a luxury and necessity was the driving force behind this furniture. The first people to migrate from the old world were farmers who had few tools early on. Many pieces built in these days were crafted with an amazingly minimum amount of tools.
To try to capture the feel of these old pieces, we decided to craft the pieces in our Early Settler's Rustic Furniture line with the same tools and methods available to these early craftsmen. Many of these pieces still retain a place in our homes.
Various treatments are applied to obtain an antique appearance on hand hewn boards. We not only construct each piece with traditional joinery, but also hand forge the hardware and cut nails in our blacksmith shop.
The benefits of this collection are many. It is exciting to be able to have that antique look without the constraints of size or availability.
We custom build each piece, so dimensions, design function, and color selections are never a problem. The simplicity that our furniture conveys is apparent, its charm unparalleled.
Please browse through the gallery and view a sample of our work. Should you have any questions, send us an e-mail and we will answer them as soon as possible.
CLICK THE IMAGES BELOW TO SEE A LARGER IMAGE
AND DETAILED INFORMATION ABOUT EACH PIECE OF RECLAIMED WOOD FURNITURE
Open Daily 10:00 AM to 5:00 PM
Closed Sundays
Evenings by Appointment